WordPress bietet ein Onenote Plugin an, mit dem direkt Onenote Seiten importiert werden können (http://onenote-blog.de).
Die Erfahrungen sind offenbar eher schlecht, aber wenn die Ausgabe einigermassen stimmt, wäre die Arbeitserleichterung gross: man kann sich damit aufs Onenote konzentrieren und braucht keine Inhalte zu duplizieren. Also habe ich es versucht…gemäss Anleitung zum Plugin.
Plugin in WordPress installieren
Mit MSA API verbinden, google nach Instructions for Acquiring MSA ClientID & Client Secret
im WordPress Editor gibt es neu ein Onenote Icon,  beim ersten Start Rechte gewähren und Onenote Seiten auswählen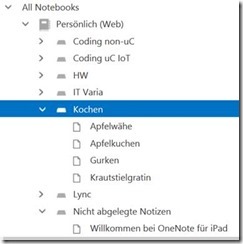 – oder nicht
Dies haben schon andere erfolglos versucht: nur die Titel werden importiert, keine Inhalte. Bei mir ging es mit keinem Browser. Abbrucuh der Übung….
Firefox – does not pull in message body  https://wordpress.org/support/topic/post-body-not-showing-up-2
Internet Explorer – prompts for (what appears to be) Windows Server credentials after clicking the OneNote icon and attempt to select a OneNote notebook, page, etc. My blog credentials do not work here.
Microsoft Edge (Spartan) – exact same experience as Internet Explorer.
Chrome – SUCCESS! For whatever reason, this plugin works with Chrome but none of the other browsers that I tried.